1946 Harley Davidson WL 45ci
In the year 1946, the war just ended and many young servicemen had recently returned from serving our country overseas and around the world. While in uniform, many of these young men were assigned one of the 80,000 WLA's that were manufactured for the war effort. Upon returning home and breathing the fresh air of freedom, they immediately turned their attention towards two of the three most important things in their lives, family, women and motorcycles! Luckily for many of them, their local Harley Davidson dealership was well stocked and the boys happily dropped their hard earned money down on a shiny new Harley WL 45ci solo rider. The black beauty that we have to offer is a very fine example of those very motorcycles that rolled out of the Milwaukee factory more than 75 years ago! Restored by one of the best in the industry, David Sarafan, this machine has had a complete and full rebuild on every aspect including a fully rebuilt engine and gear box, all new electrical including wiring harness, rebuilt generator and all new and reconditioned lighting. Along with the matching engine cases, this unit sports many original components including frame, forks, gas tank and fenders as well as other components throughout. Any reproduction items needed for the build were only the best quality sourced from either US or European manufactures. A few personalized upgrades include chrome handlebars and floorboards with DeLuxe alloy foot pads, front fork ride control, chrome exhaust and a set of beautiful leather saddle bags made here in So Cal many years ago. This unit is ready to go and selling with a clear title.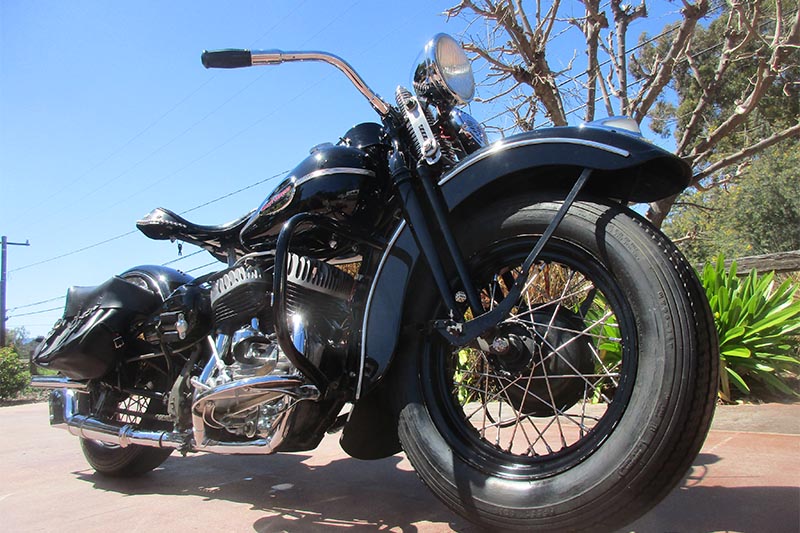 Click on any of the images above to view larger pictures.
More great bikes on our YouTube Channel.
Don't Miss Out On Your Favorite Bike...