Frame # SD2621 Engine # TCA198
One of the oldest manufacturers of 2-wheeled transport, Ariel was known for its bicycles before they started to build motorcycles around the turn of the century. The first models were powered by 3.5HP White and Poppe engines. When WWI broke out the Ariel range consisted of 498cc side valve singles and 998cc (inlet over exhaust) V-twins – all manufactured in-house. Throughout the 1920s, a variety of 247cc, 348cc, 498cc, 586cc, and 669cc singles and 794cc and 993 V-twins were produced. In the late 20s, a young Edward Turner (later of Triumph fame) joined Chief Designer Val Page to design a new range of overhead valve singles and in 1931, the Square Four. Jack Sangster then bought Ariel, based in Selly Oak, and the company continued to produce updated 350cc and 500cc singles, including the popular sporting Red Hunter series well into the 1950s.
After the firm's sale to BSA in 1944, Ariel also built two main types of overhead valve twins, the softly tuned 500cc KH and the more powerful Huntmaster, powered by the 650cc BSA A10 engine. By 1959, production of 4-stroke machines had ceased, to be replaced by a series of 250cc 2-stroke powered motorcycles, the Leader with enclosed bodywork and the more stripped Arrow, along with variants of each. While decent bikes, they did not sell well and the firm ceased trading in 1967.
The Ariel Red Hunter model designation was VH. This 1952 machine is labeled a VHA as it has the aluminum barrel and head introduced in that year. It is a rare machine with a total of only 491 produced in 1952. The engine is a 497cc pushrod alloy single with a claimed 24HP. Transmission is a Burman 4-speed. It has telescopic front forks and a plunger rear suspension on a semi-double cradle frame. Originally painted in the standard red and black livery, it has been repainted in the striking Wedgewood Blue, that was an option in 1952 in celebration of the Queen Elizabeth's coronation.
This VHA has never been registered in the US. It was imported by Roger Slater (of Slater Bros – Laverda dealers) from England in 1993 and purchased by the current owner in 2013. Documentation includes the registration of the previous English owner(with number plate), multiple MOT test certificates, shipping documents, a Dating Certificate from Ariel specialists Dragonfly Motorcycles, a Bill of Sale to the current owner, and descriptive information on the VHA model.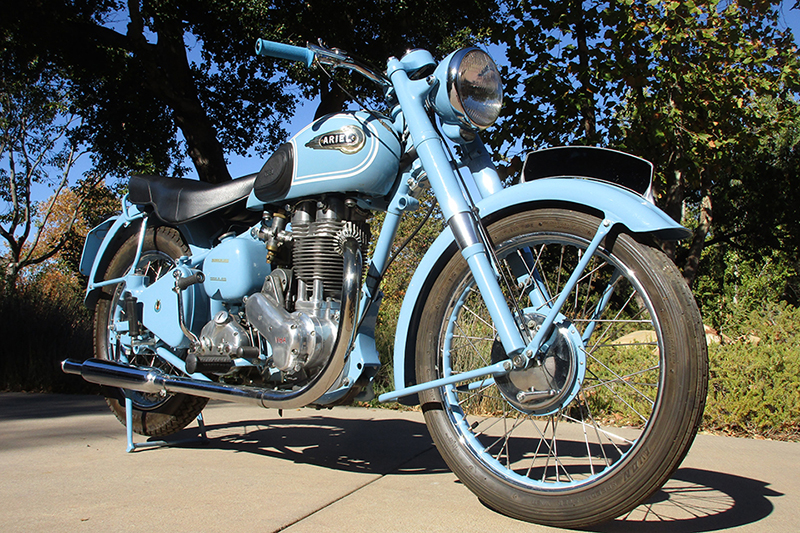 Click on any of the images above to view larger pictures.
More great bikes on our YouTube Channel.
Don't Miss Out On Your Favorite Bike...