1986 Ducati Mike Hailwood Replica
Vin # ZDMAS96383B906508
Ducati Meccanica made a name for itself in the 1940s, 1950s, and into the 60s with a series of small (100cc-250cc) 4-stroke one cylinder powered motorcycles that became known as the "narrow case" singles. These overhead valve and generally overhead cam motorcycles enjoyed great commercial and racing success throughout Europe. The force behind this success was Dr Eng Fabio Taglioni, brought in, in 1954, to modernize the product line. The result was a redesign of the entire family of "one-lungers", which came to be known as the "wide case" singles. A number of the new models also sported desmodromic valve actuation, allowing for higher revving engines. There were also increases in engine displacement with the new Street Scrambler line available in 250cc, 350cc, and 450cc versions.
There was finally a realization that to be competitive in a changing world market (and especially in the US), a larger displacement Ducati would be needed. So in 1969, Eng Taglioni was charged with developing a 750cc powered model as soon as possible. His choice was an inline 90 degree V-twin (or L-twin as some would say) engine configuration. This, "two mated singles" design saved on development time and gave Ducati a unique signature engine. With the front cylinder almost horizontal, it allowed for effective cooling of the rear cylinder. The wide 90 degree angle between the cylinders also provided the best primary balance factor. The rear chain drive and narrow engine profile allow for a more sporting stance. The narrow frontal angle gave superior air penetration and a greater possible lean angle for its rider.
Just a year later, in mid-1970, prototype machines appeared. In the following year, the first production model rolled off of the assembly line, the 750GT. The bevel drive overhead cam engine used conventional valve spring actuation and a top speed of 120mph was claimed. The engine's chief advantage was a huge level torque spread giving instant response in any gear. The duplex frame employed the engine as a stressed member. A pair of race-prepped machines pulled off one of the major race track upsets of all time when Paul Smart and Bruno Spaggiari rode to a 1-2 victory in the 1972 Imola 200 mile event. This win put Ducati on the map, legitimizing the new V-twin model.
Streetside, 1972 saw the introduction of 750 Sport, with distinctive yellow livery and a more sporting riding stance. By 1974, one could buy the strictly limited production hand-built desmo 750SS, which was almost a road going street legal version of the 1972 Imola race winner. In 1977, the V-twin Ducati achieved a higher level of fame as privateer moto-journalists Phil Schilling and Cook Nielson got its first AMA Superbike win at the Daytona 200, beating factory sponsored race teams. In 1975 the desmo-powered 900SS was introduced and soon became the company's most popular model. A newly styled model, the Darmah, was introduced in 1977 using the 900SS engine, with relaxed ergonomics and much improved ancillary equipment, especially the electrical and ignition parts. These upgrades made their way into the 900SS in 1978.
Mike Hailwood's legendary Isle of Man comeback victory, after a 12 year hiatus from motorcycle racing, in the 1978 Formula 1 TT provided Ducati with not only their first World Championship, but an almost endless stream of publicity, and led, the following year to the introduction of the Mike Hailwood Replica (MHR 900). Meant as a limited production model to celebrate the Isle of Man victory, it became in the 1980s the company's best selling model. With its Bosch electronic ignition, 9.5 to 1 compression ratio, and dual 40mm Dell'Orto carbs, the engine produced 72HP. The double steel cradle frame machine rolled on 18" cast alloy wheels. In 1984, the engine size was increased to 973cc with the bike named the MHR Mille. Final year of production was 1986.
This MHR 900 carries the CA license plate MHRDUC. It is in stunning original condition with only a front fairing repaint. A factory brochure is included.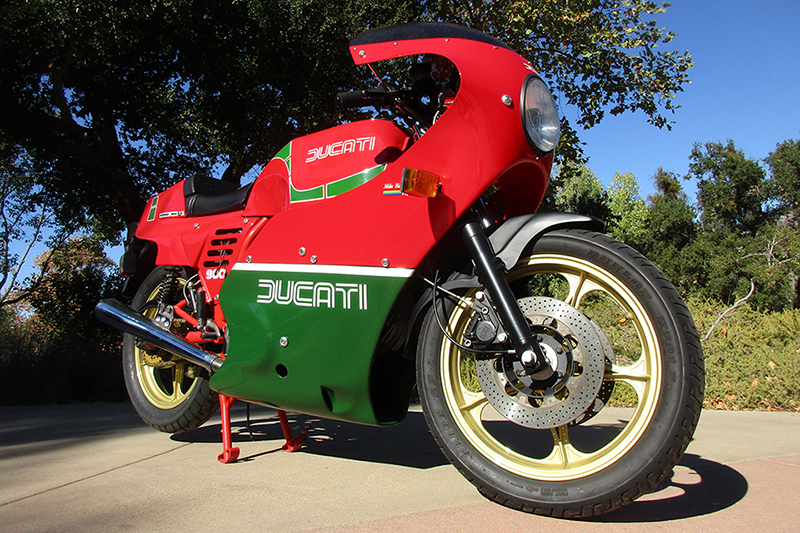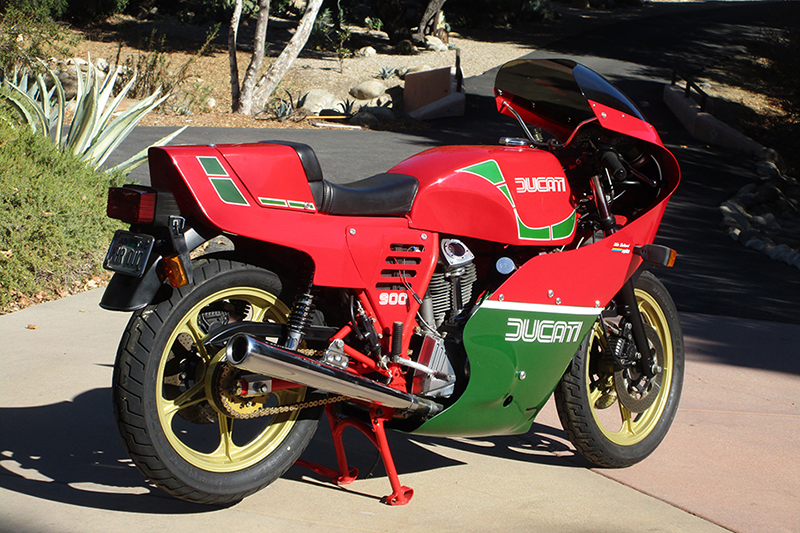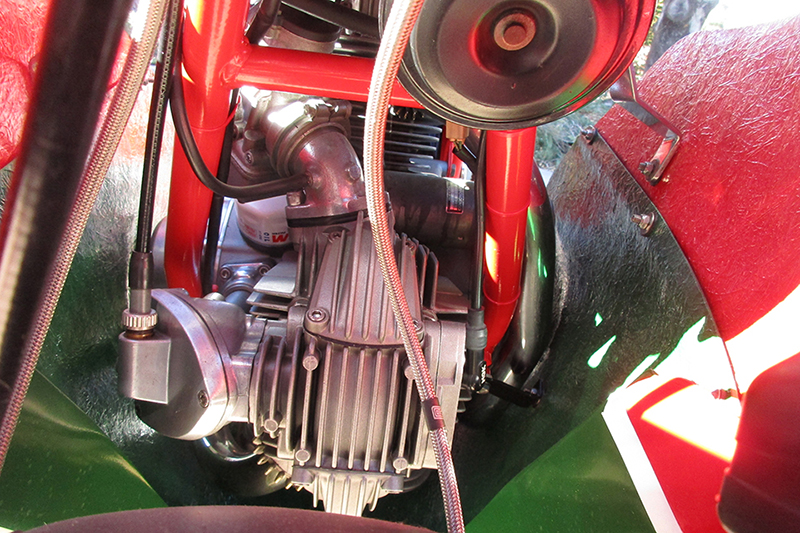 Click on any of the images above to view larger pictures.
This motorcycle is currently offered for immediate sale here at BatorInternational.com until the start of our Fall 2022 Online Auction at BatorClassicAuctions.com in mid-October where it will be going over the block.

Auction starts October 19!

Register NOW – It's FREE, EASY and SECURE
More great bikes on our YouTube Channel.
Don't Miss Out On Your Favorite Bike...