1942 Harley Davidson WLA 68743
During WWII, Harley Davidson produced over 80,000 WLA and WLC's for the US and Canadian military as well as for our allies overseas. Many of these "Liberators" were destroyed or left on the battle fields after the fighting was over and the troops had gone home. Once the dust had settled, many of these motorcycles were earmarked for the scrap yard while others were sold as military surplus. Some of the lucky ones were bought up by the returning troops and civilianized for street use as well as for racing in such places as the sands of Daytona Beach or in the deserts of California. This motorcycle was restored in the early 1980's using many original components. The engine number of 42WLA68743 indicates that it is the Type 7 and was probably put out by the factory in late 1944 or early 1945. Besides the deep water fenders and engine deep water fording breather, the motorcycle has many original components throughout and includes items such as the oil bath air filter with the Linkert M88 carburetor, black out head and tail lights, original speedometer, ammo box and gun scabbard. This motorcycle was built as a rider, and many of the war time dings and dents still remain throughout the fenders and tank.  With that said, she is no trailer queen, but if you want the feel of an old war dog with the spirit of the combat still infused throughout the metal, then this is the motorcycle for you.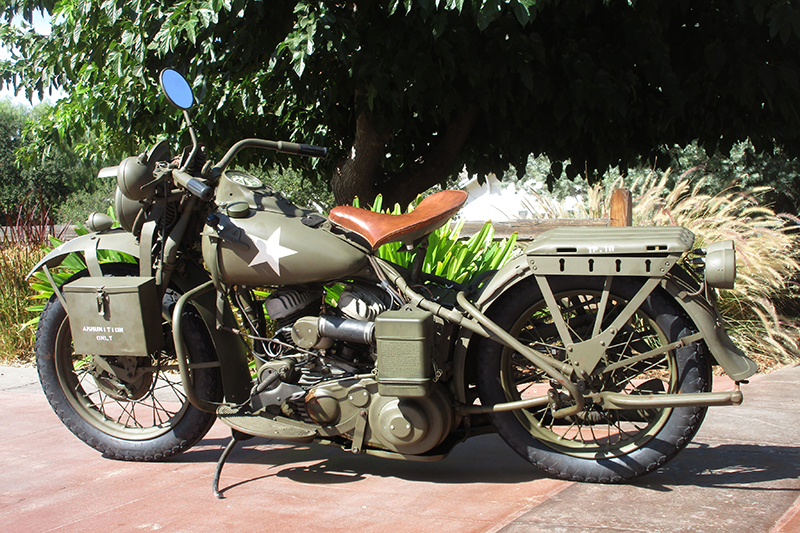 Click on any of the images above to view larger pictures.
More great bikes on our YouTube Channel.
Don't Miss Out On Your Favorite Bike...