1942 Harley Davidson WLA 26847 with Sidecar
Records show that, after being brought back to the states from its war time campaign stationed in Greece, this Type 3 1942 Harley Davidson WLA was restored in 1982 by Dennis Davis out of New Hampshire. The replica sidecar was added to the bike about the same time that Dennis restored the motorcycle and the rig was often used on local outings with his two daughters. The motorcycle was sold many years ago to a military collector in Arizona before recently landing with us here in Ojai, CA. The motorcycle has been freshly serviced by Buddy Stubbs Harley Davidson with a full carburetor rebuild and fresh fluids. The nut and bolt correct restoration was nicely done using the proper CP1035 and CP1038 Parkerized bolts as well as many original items such as speedometer, fenders, gas and oil tanks, frame forks and the list goes on. Included in the sale, there is a photo album showing the restoration process underway as well as a number of receipts and an article on this very motorcycle dating back to the 1980's. The 40 year old restoration still holds up well and the odometer shows that it has been ridden sparingly with only 1332 on the clock. Finding such a fine example of the WLA with so many original parts is rare and, with the addition of the very desirable sidecar, this would make a great addition to any collection or for the first time enthusiast.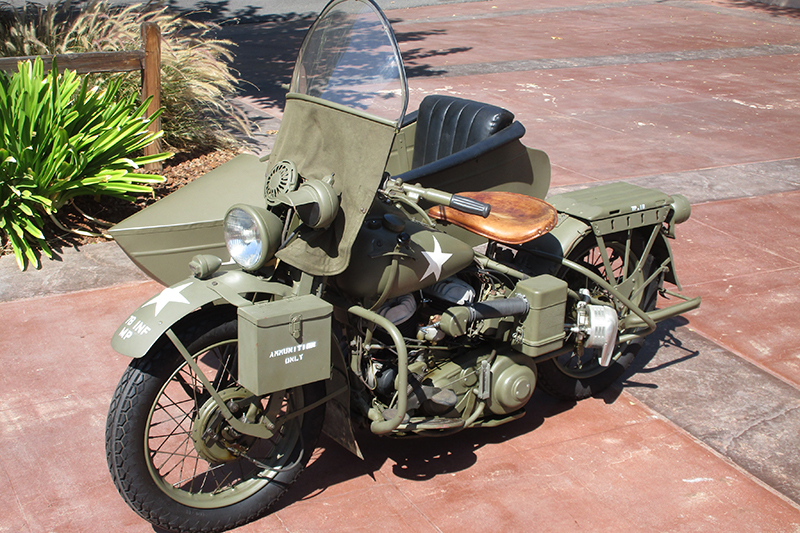 Click on any of the images above to view larger pictures.
More great bikes on our YouTube Channel.
Don't Miss Out On Your Favorite Bike...