1948 Harley Davidson Panhead Bobber
For the Harley Davidson factory, the year 1948 was a pivotal year. Their top of the line model, the Knucklehead, was being retired and a new generation of Big Twins were making their debut. In that year, the new Panhead was first introduced and it was also the last year for the trusty Springer front fork system to be offered on the FL's or EL's. Now fast forward about 72 years to the present day and the 1948 is heralded as one of the most iconic and collectible of the entire Panhead production years. The fine example that we have to offer was recently restored as a period Bobber by yours truly and has only 15 miles put on it since the rebuild. The 74 ci. power plant has been completely rebuilt with matching cases, balanced fly wheels, rods and pistons. The correct year cylinders and heads have a fresh bore and all new valves and guides in place. The motor is mated up to a correct year gear box, original speedometer, gas tanks and OEM frame. Upgraded items include a belt drive primary, KR style solo seat and VL style muffler to round off the bikes good looks. Gas tank and fenders are painted in a metallic silver blue livery which sets off this very cool ride. This beautiful motorcycle is ready to show or go and would make an excellent addition to any collection or man cave.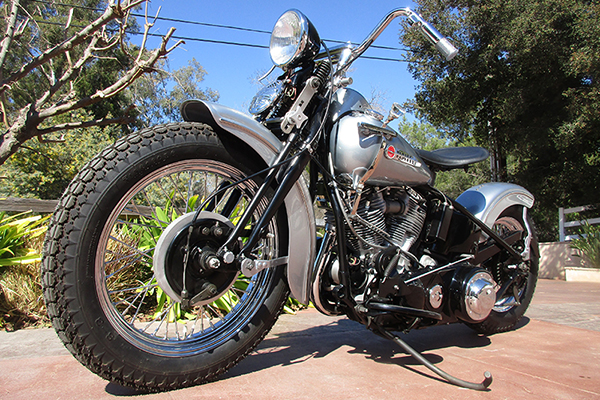 Click on any of the images above to view larger pictures.
More great bikes on our YouTube Channel.
Don't Miss Out On Your Favorite Bike...