1957 Harley Davidson XL Sportster 3100
When Harley Davidson upgraded the old Model K with a new, all-iron OHV top end in 1957, the Sportster was introduced and quickly became an American icon, and Harley-Davidson's most successful model. It took Harley 21 years to introduce an overhead-valve lightweight V-twin after the Knucklehead debuted in 1936, and, better late than never, the XL marked a new beginning for Harley-Davidson.
The new XL had a lot more power than the side-valve K Model it replaced, plus it handled better and was faster than the Big Twin range. Best of all, the XL Sportster had terrific styling with its small fuel tank, trimmed fenders, unit-construction engine and paired side exhaust. The XL's proportions and lines still sets the Sportster "look" 60 years later! The newly designed iron overhead-valve cylinder heads meant the XL produced 40 percent more power than the Model K it evolved from with "hemi" combustion chambers and valves set at nearly right angles. The OHV heads breathed freely, which meant plenty of power straightaway—a claimed 12 HP more than the Model K using basically the same crankcases, gearbox and an identical chassis. The clutch was beefed up with seven plates, but Harley-Davidson saved a bundle by installing the XL motor into the gap left by the old K engine, making a light (495 pounds) and fun machine. The new OHV XL was dubbed "the Sportster", a model that lives on today and remains a testament to the excellence of the original design.
This XL was purchased last year by famed Sportster expert Glenn Bator of Bator International, Inc., and was re-restored to a perfect nut and bolt example, paying close attention to detail on every part, including correct date coded cylinders and all hardware, to insure proper fit and finish throughout. Of course, it sports the very iconic one year only Pepper Red and Black livery!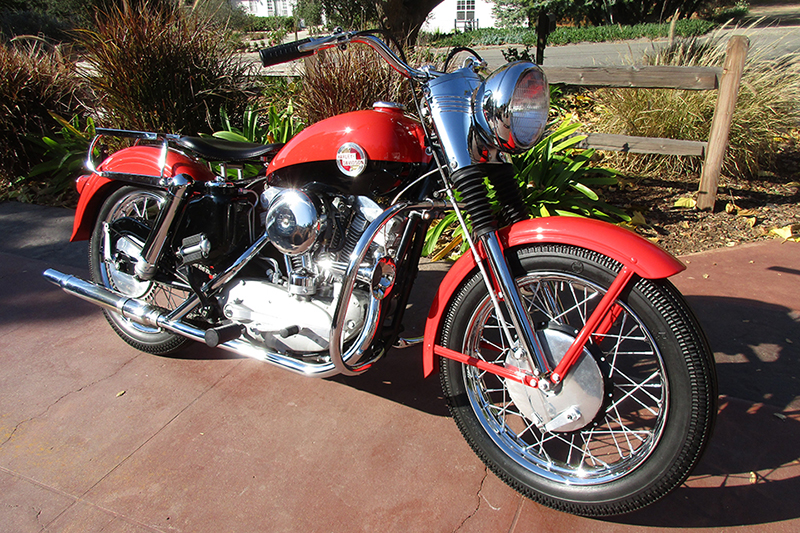 Click on any of the images above to view larger pictures.
1. 100 point restoration
2. Pepper Red and Black paint
3. Original Goodyear tires
4. Front crash bar
5. Solo seat
6. DC1 Linkert carburetor
7. Re-restored by Glenn Bator
8. Correct bugle horn
9. All correct hardware, fit and finish
More great bikes on our YouTube Channel.
Don't Miss Out On Your Favorite Bike...