C1923 Harley Davidson Factory Sidecar
This classic Harley Davidson factory sidecar sports an older restoration and paint in the Bruster Green livery. The overall condition can be rated as "very good to excellent".  Besides the very nice rust free tub, the car sports a spare tire mount with wheel and a rear fold down luggage rack as well as a side hinged door with frame step and side marker light. Interior includes a nicely upholstered seat, carpeting and Harley Davidson foot rest. The original type canvas cover has not been opened or inspected, but looks to be in decent condition. The entire sidecar tub as well as the chassis and undercarriage suspension is in very nice shape with no welds, body fillers or repairs detected. The 26″ sidecar wheel was rebuilt with new spokes and a white button tread Coker tire.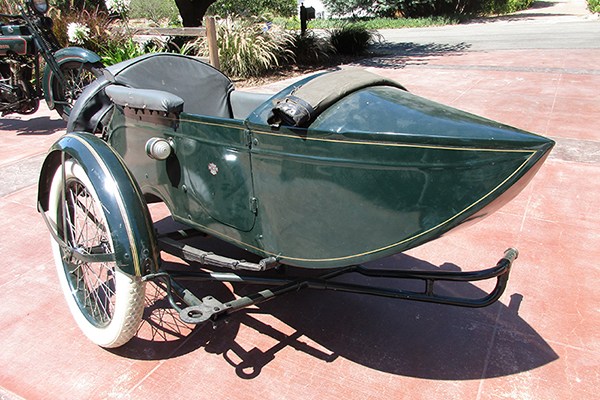 Click on any of the images above to view larger pictures.
More great bikes on our YouTube Channel.
Don't Miss Out On Your Favorite Bike...