1956 Moto Guzzi Cardellino
Engine # ADA 68
The long and storied history of Moto Guzzi motorcycles began at the end of WW I with the enthusiastic ambitions of two Italian Air Force pilots, Giorgio Parodi & Giovanni Ravelli, and their mechanic Carlo Guzzi. Sadly, Ravelli perished in a flying accident, but with financial backing from the wealthy shipbuilding Parodi family, Carlo was able to develop his motorcycle designs. Working from the family home in Mandello del Lario, on the shores of Lake Como, Guzzi completed the prototype engine design that was to power Moto Guzzi motorcycles for the next several decades – a 4-stroke horizontal single with a large outside (bacon slicer) flywheel, semi-unit construction gearbox, and magneto ignition. This engine style served ably in various sizes in a variety of models for general and commercial use, racing, and military/police duties.
After the end of WW II, Moto Guzzi, like many Italian industrial firms, struggled to survive and saw its immediate future in the production of low cost small displacement motorcycles for basic transportation. At this point, the company had no experience in the manufacture and selling of 2-stroke machines. The first design was a 38cc engine, the Colibri (Hummingbird) , that could be mounted on a bicycle. Soon, however, that was followed by the Giulio Carcano designed Guzzino (little Guzzi), with a 65cc 2-stroke rotary valve engine in a complete frame and running gear. The sloped single produced a modest 2HP, runnng a 3-speed gearbox and yielded mileage figures of 150-200 mpg. The frame, carried forward to future models, featured blade type front forks, pressed steel swingarm, front and rear drum brakes, and big 26" wheels. In 1946, the model name was changed to Moto Leggera (light motorcycle). These small motorcycles were extremely successful selling about 200,000 units until a 1954 update to become the Cardellino (Goldfinch). Rear suspension damping was also added. Initially remaining at 65cc, the engine was soon enlarged to 73cc and then to 83cc in1962 with a power increase to 2.9HP. Production ended in1963.
This 65cc Cardellino, with its nifty 3-speed tank mounted shifter, is from 1956 and comes with its original Italian registration "Carta" showing the purchaser to be Giuseppi Ceppi from Torino. It received a full nut & bolt restoration with a repaint, all chrome replated, all hardware re-cad-plated, all alloy polished and rubber parts replaced. It has the correct headlight, tail light, horn, switchgear, rubber parts and air pump. The wheels were relaced with black painted spokes and brass nipples. It comes with a workshop manual (in English), a wiring diagram, period advertising literature, registration documents, and parts books (in Italian). Spares include several damper plates, crankcase seal set, complete gasket set, and extra paint. Selling on a Bill of Sale.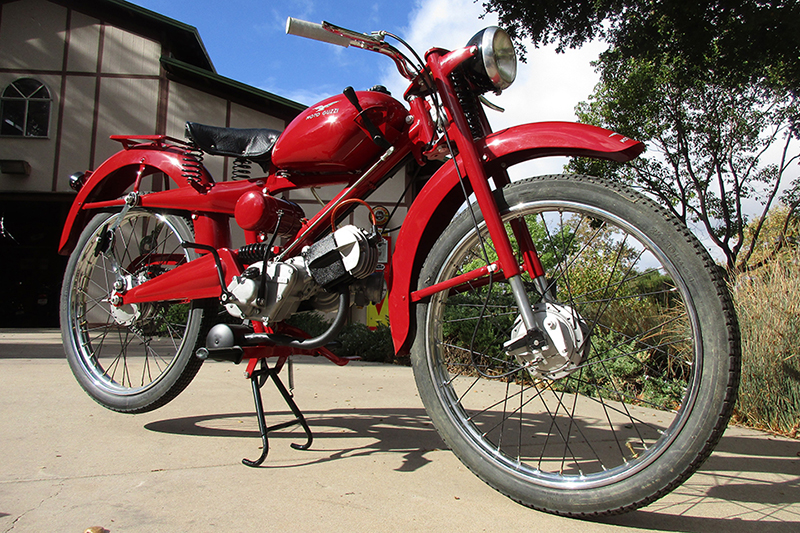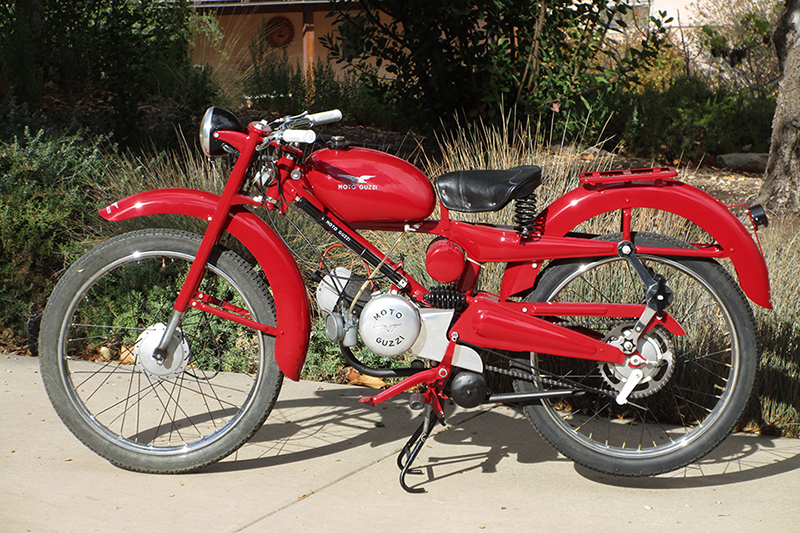 Click on any of the images above to view larger pictures.
More great bikes on our YouTube Channel.
Don't Miss Out On Your Favorite Bike...