Engine# E30927 Frame # IGM 10680M (E*30927)
Born in 1892, Alfonso Morini acquired his mechanical skills through a blacksmith's apprenticeship, his own shop to repair bicycles and motorbikes, and WW I service, posted to an auto and motorcycle repair facility in Padua. Postwar, he teamed up with Mario Mazzetti to form MM and launched their first motorcycle, a 125cc 2-stroke racing model in 1924, with Morini as the works rider. But it was 350cc & 500cc 4-stroke production road bikes which established the marque during the 1930s.
In 1937, Alfonso left MM to start his own company, Moto Morini, based in Bologna. However, World War II intervened and Morini was forced to switch planned production to military equipment. After the end of the war, he got on with the task of rebuilding his partially bombed out factory to produce motorcycle trucks and motorcycles. The first of the bikes was a 125cc 2-stroke based on a pre-war German DKW design. This was built to give post-war Italians basic 2-wheeled transportation. They later developed a 246cc twin port 2-stroke single and had racing success with both models.
By the end of the 1940s, FB Mondial had shown that 4-stroke engines were clearly the direction to go for powering race winning motorcycles. Morini answered by developing a 125cc, 4-stroke, single overhead cam racer in 1949, taking 2nd spot in the Italian GP at Monza, with Umberto Masetti at the helm. Throughout the 1950s and into the early 1960s, Morini developed a series of 175cc and 250cc 4-strokes with considerable success on Italian road race tracks and across the European Gran Prix circuits. Their most successful pilot was Tarquinio Provini. In 1963, he was succeeded by a young Giacomo Agostini.
On the production front, Morini had developed three versions of its 175cc 4-stroke single – the Settebello, the Fresette, and the Rebello, with a maximum output of 22HP. There was also a 98cc variant named the Sbarazzino that proved very popular, with a claimed top speed of 60 mph. At the end of 1959, Morini followed these with a 125cc model named the Corsaro (Pirate) which developed 7.5 HP with telescopic front forks and twin rear shocks. Top speed was claimed to be 63mph.
This Corsaro 125, circa 1963, has undergone a complete nut & bolt restoration with new paint, all chrome parts replated, all alloy polished, all hardware re-cad-plated, and new rubber parts. The wheels were relaced with stainless steel spokes and nipples. It has the correct headlight, tail light, horn, switchgear, rubber parts, and air pump. Included are workshop and owner's manuals (in Italian), a wiring diagram, toolbox keys, spare decals, and rear crash bars (unmounted). Selling on a Bill of Sale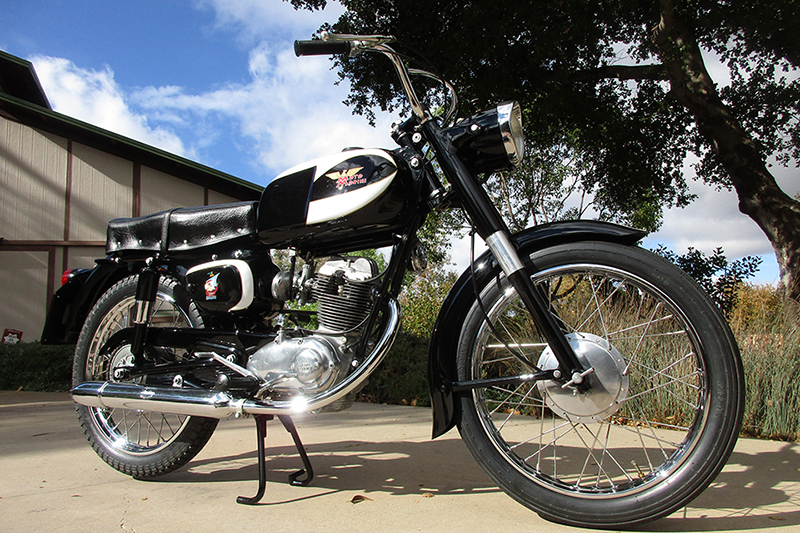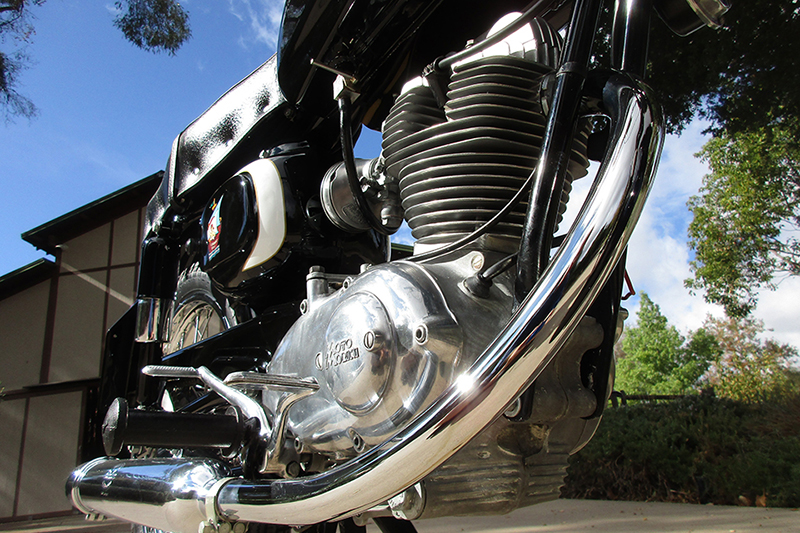 Click on any of the images above to view larger pictures.
More great bikes on our YouTube Channel.
Don't Miss Out On Your Favorite Bike...