1947 Triumph GP Production Racer (Replica)
The Triumph Grand Prix was set up by the factory as a production racer that was powered by a T100 motor. It had a lightened and polished crankshaft with roller bearings, heavy duty conrods, dry sump lubrication, BTH racing magneto, raised compression and a lightweight alloy cylinder barrel and head fitted with lightened, polished valves and twin Amal carbs. The Grand Prix was an immediate success with its' rigid frame, rear wheel sprung hub, competition brakes, close ratio gear box and exposed primary drive. The square barrel top end was a derivative of a war time generator power unit. Production figures were in the order of 150 to 200 units in total. This fine example is a very correct recreation of the factory racer and the restoration looks to be top drawer. This tribute racer would be an excellent addition to any serious collection or used for vintage racing. Selling on a bill of sale.
Technical Specifications:
– Engine: 4 stroke, air cooled
– Displacement: 498 cm3
– Bore x Stroke: 63 x 80 mm
– Power: 42 hp. at 7200 rpm
– Carburetors – Amal Mk 6
-Tires – 3 x 20 inch/4 x 19inch
– Wheelbase – 53 inch
– Weight: 142 kg
– Speed: 190 km/h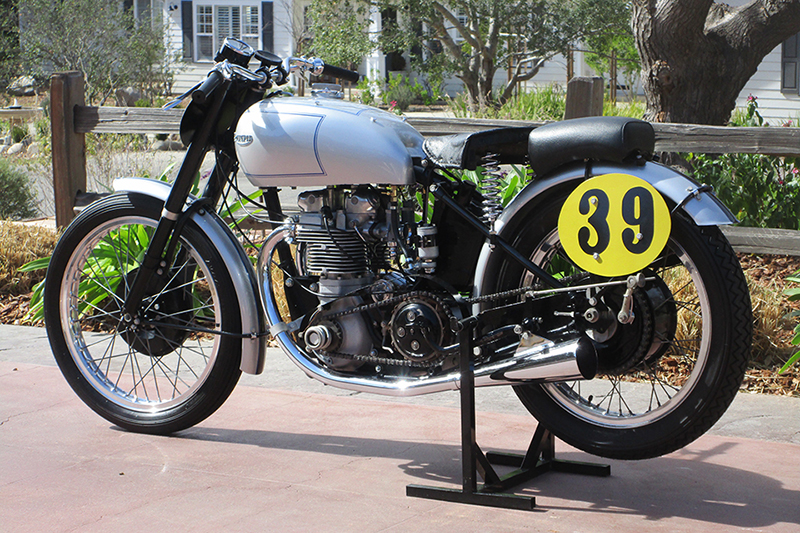 Click on any of the images above to view larger pictures.
More great bikes on our YouTube Channel.
Don't Miss Out On Your Favorite Bike...