1978 Yamaha SR500 Custom Cafe
The Yamaha TT dirt bike with its tree stump pulling power was a brut of a motorcycle back in the 70's and was not for the beginner or faint of heart! The XT Enduro was produced using the same thumper of a motor and was excellent for cow trailing or any off road adventure. A couple years later, Yamaha had the bright idea to take that same 500cc four stroke single motor and throw it into a conventional street chassis and, as a result, the SR500 was born. This example started out as an original stock factory unit, but with much time, creativity and devotion it was transformed into this very tasty street legal cafe racer. Only showing a little over 7,000 miles on the clock, the factory donor had very few miles since it first rolled off of the assembly line well over 45 years ago. The bike was taken down and the frame was sent off for powder coating and, after trying on many hats, a Norton gas tank was chosen and sent off to the painter for a very tasty flat metallic paint job to set the tone. The original seven spoke wheels were utilized along with the stock speedo and tach assembly, headlight and braking system.  Once reassembled, the end result is quite stunning. The motorcycle also sports a Mikuni flat slide carburetor, custom electrics, street tracker style handlebars, custom hand grips and a traditional racer seat.  This bike has a current registration and is selling with a clear California title and NO RESERVE!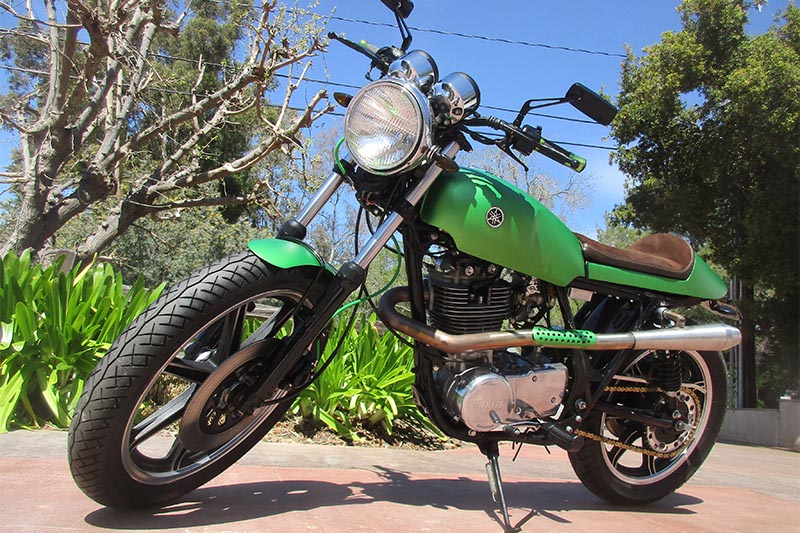 Click on any of the images above to view larger pictures.
More great bikes on our YouTube Channel.
Don't Miss Out On Your Favorite Bike...